About Houston Process Servers, LLC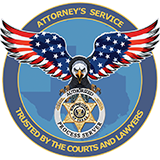 Houston Process Servers, LLC has a team which is trained to manage all the legal support needs. With a distinction you'll know, we pride ourselves on a professional work product. We have several years of collective experience and know-how in representing the legal community together.
We are properly licensed Texas legal process servers. We support US legal services, private attorneys, small enterprises, government departments and general public in the areas of civil service of process. 
We have assured performance and value our client's satisfaction. We accelerate delivery of all your legal documents and you can test whether or not these documents have been obtained by calling our office. Also email, phone or fax confirmations are also provided at no charge.
We are happy to represent you.